What Kind of Porsche Should I Buy?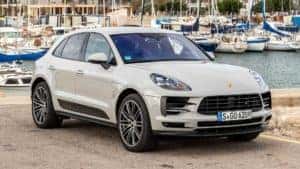 At Porsche Woodland Hills, we are proud to provide the high-performance, luxury cars you've come to expect from Porsche, from the Porsche Cayenne to the Porsche 911. No matter which one of our new Porsche cars you choose, you can look forward to nothing but the best. Every Porsche car is stunningly designed with smooth handling, but how can you decide which model of Porsche is the right fit for you?
Why Buy a Porsche Luxury Sedan?
If you are looking for a car that can tackle both your daily commute and your next cross-country trip, look no further than the 2019 Porsche Panamera. This sedan seamlessly blends elegant design and the latest technology to give you a driving experience like no other. The turbocharged 3.0-liter V6 engine can produce a spirited 330 horsepower and 331 lb-ft torque. With that much power, but the 2019 Porsche Panamera can reach 60 miles an hour in an astonishing 5.4 seconds.
The athletic exterior of 2019 Porsche Panamera transcends your average sedan with its sleek contouring and prominent side sculpting. Its redesigned interior is spacious and comfortable, with plenty of room to stretch out. As your safety is always a Porsche priority, this sedan comes outfitted with driver assistance systems like lane change assist, park assist, and night view.
Why Buy a Porsche Luxury SUV?
If you're looking for something with a bit more bulk, check out the 2019 Porsche Macan. This compact SUV combines sportiness and practicality in its modern design. A reshaped grille, updated bumper, and hard-edged hood give this model an aerodynamic grace on any road.
The 2019 Porsche Macan is equipped with a 10.9-inch touchscreen display, granting access to Porsche Connect, our infotainment platform that can stream your music, show you real-time traffic, and locate the nearest gas stations. In the rear luggage compartment, there is room to spare with 52.9 cubic feet of storage space. Performance is critical to the Porsche brand, and the 2019 Porsche Macan is no exception with a Turbocharged Inline 4 engine that earns 248 horsepower and 273 lb-ft of torque, and a 7-speed transmission. With that kind of power, this luxury SUV can reach 60 mph in just 6.3 seconds.
There's nothing quite like the experience of getting behind the wheel of a Porsche. These luxury vehicles won't sit on the lot for long, so contact your Los Angeles-area Porsche dealer today to take one of our models for a test drive. We'll help you find the perfect ride.