What Do You Need to Trade in Your Car at Porsche Woodland Hills?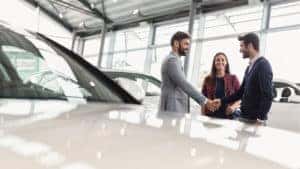 At Porsche Woodland Hills, our expert staff is here to help you find the car of your dreams. We understand that buying a car is a big commitment and the cost associated with it can be significant. Trading in your current vehicle to get one of our new Porsche cars is a smart fiscal decision and our finance department will work with you to ensure a smooth trade in process.
What to Bring With You
There are a few steps you need to take if you have decided to use your current car to help finance a new car. Your Los Angeles area Porsche dealer is looking forward to your arrival and would like to make sure you bring some essential paperwork along. The most important piece is the title, as that establishes you as the owner of the vehicle and gives you the power to release the ownership. Please also bring the owner's manual and proof of any maintenance work done on your car. Before you leave your car with us, make sure to clean it out and take out any personal effects.
Cars to Consider When Trading
When you are ready to visit our dealership to trade in your vehicle, it will be time to try a new Porsche model out for size. The 2019 Porsche Macan is a sporty and practical compact SUV that can work for the commuter and the adventurer alike. It has 52.9 cubic feet of cargo space and goes from zero to 60 in only 6.3 seconds. If you need a car that can function perfectly as a mobile office and is safe yet thrilling, consider the 2019 Porsche Cayenne. This midsize crossover SUV keeps you connected at the cockpit and the cutting-edge driver assistance systems add an extra layer of security.
If you are ready to take the next step and get behind the wheel of a new car, please stop by your California Porsche dealer at 21301 Ventura. Due to our painless trade in procedure, you will have the upgraded car you deserve in no time. We look forward to working with you.