Top-Quality Tire Service at Porsche Woodland Hills
The last thing you want to do when looking for a luxury performance car dealership is settle, which is why you should choose Porsche Woodland Hills . Not only will you find an incredible selection of thrilling new Porsche cars for sale near Los Angeles , but you can also trust our team to take great care of your car at our Porsche service center. Make your way over to our Porsche dealership near Los Angeles today to experience the difference.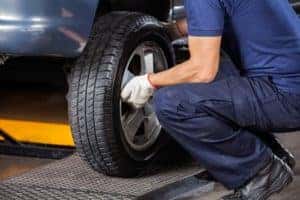 Why Tire Service is Important
Our team here at our Woodland Hills Porsche service center can help take care of everything about your car including your tires. Even given all of the brilliant engineering and dedication to quality that goes into creating the elite performance experience that Porsche cars offer, you're not going anywhere anytime soon without good-quality tires. If you let your tread wear down too far, you risk sliding out in situations where you normally feel confident, such as sharp corners. Not only does this diminish your cherished Porsche driving experience, but it also makes driving unsafe.
You'll also want to keep your tires inflated to the right air pressure at all times to provide the best ride feel and acceleration. Not to mention, this also helps prevent your tires from wearing down early. By taking good care of your tires, you can also avoid getting a sudden flat tire, which is the last thing you want if you're taking a day trip to Death Valley.
Tire Service at Our Service Center
During every service appointment, we will fill up your tires to the right air pressure-free of charge. We will also keep you up to date on when you should get your tires rotated, which should happen every 6,000 to 8,000 miles or even more often if you have performance tires. In some cases, we can even repair your tire if there is a small hole or tear. And when it comes time to replace your tires, you can find just the right tires for your car at our Porsche parts center .
Schedule your service appointment today at our Porsche service center near Los Angeles to make sure your car keeps driving at its full potential!