The Importance of Porsche Car Service in Woodland Hills, CA
After you purchase one of the new Porsche cars from our Porsche dealership serving Los Angeles , CA, we'll be here to help you preserve that new-car feeling and quality at Porsche Woodland Hills. Count on our Porsche dealers near Woodlands Hills to keep your brand-new Porsche vehicle in excellent shape with expert service catered specifically to your vehicle.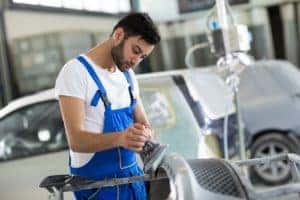 Why Regular Service is Important
We know our customers lead busy and demanding daily lives. In order to ensure that your Porsche vehicle can match the pace of your routine, scheduling routine service is an absolute must. Regular service schedules can serve as an important preventative measure. Maintaining all of the critical components of your vehicle can prevent unnecessary parts wear or unexpected and costly issues down the line.
The exact service schedule will depend on your vehicle and driving habits, but general procedures such as oil changes, filter checks, fluid top-offs, and battery and tire inspections are some of the valuable services to keep up with. Rather than waiting until you see a warning light on your dashboard or you sense problems with your tires, keep regular maintenance appointments with our service team. You may be surprised that coming in every six months for a routine oil change can go a long way toward keeping your engine healthy and your vehicle as a whole running smoothly and efficiently. If our technicians do sense that a part needs to be replaced, they can catch it early and help you purchase and install genuine replacement parts you can trust.
Our Service Center near Los Angeles
Your Porsche vehicle is a precious investment. To protect it, it's essential to work with a Porsche service center you can trust. You'll find that here at our Porsche dealership serving Los Angeles. All of our technicians and highly trained and certified in all things related to Porsche service and parts care. There's no problem too big or small for our service team. If you ever have questions about service interval recommendations, parts replacements, or even appointment scheduling, our service team members are happy to assist by phone or in person. You can also easily secure your next service appointment on your own time from the convenience of our website.
Whether you've just purchased your dream Porsche vehicle or you've fallen behind on service for your vehicle, it's never too late to start or get back on track with a regular maintenance program. Come see your California Porsche dealers for all your car service needs.