The Empty Nester's Guide to Purchasing a Porsche Vehicle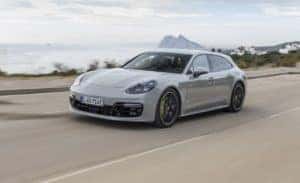 At Porsche Woodland Hills, we are proud to offer an excellent selection of the latest exciting Porsche models. Our Porsche dealership near Los Angeles is where you can find a diverse range of Porsche coupes, convertibles, SUVs, and more. We understand that each stage of life comes with different driving needs. We offer impressive vehicles for these unique stages of life, so you're sure to find something that suits your needs at our Woodland Hills Porsche dealership.
Driving as an Empty Nester
Raising a family is an exciting journey filled with cherished memories. While watching your last child grow up and leave the home is a bittersweet time of life, it opens up new opportunities that are unique to being an "empty nester." In past years, you prioritized practicality and space to accommodate the needs of your kids. Now, start to focus more on what you really want out of a car. It is the perfect time to choose a new Porsche car that you've always wanted at our Porsche dealership near Los Angeles.
2018 Porsche Panamera
This four-door luxury sedan will undoubtedly turn heads as you drive by with its sleek and refined exterior that proudly wears the unmistakable appearance of a Porsche. The Porsche Panamera represents Porsche's expansion outside of the realm of sports cars with its spacious and luxurious interior that comfortably seats five. Even so, racetrack-inspired performance still abounds here with a 330 horsepower engine that can take the Porsche Panamera from 0-60 mph in just 5.4 seconds. The generously sized communication touchscreen that connects you to your favorite media is just one of many advanced technology features available.
2018 Porsche Cayenne
Another departure from Porsche's track-ready sports cars is the Porsche Cayenne, which still packs a surprising punch under the hood with a baseline engine that generates 335 horsepower and an available engine that produces 541 horsepower for the Turbo model. Inside, the Porsche Cayenne boasts glamorous, comfortable seating for five with plenty of legroom and cargo space. The all-wheel drivetrain and smooth suspension add up to exceptional handling for a thrilling driving experience.
No matter what stage of life you are in, you can find the perfect car for your driving needs at our lot. You can contact our Porsche dealership in Woodland Hills to talk to our helpful staff or simply head over to our dealership for a test drive.