Service Your Engine at Porsche Woodland Hills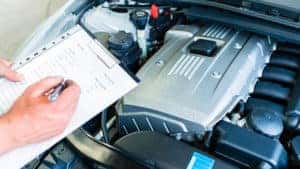 If you step behind the wheel of a brand new luxurious 2019 Porsche Panamera or thrilling 2019 Porsche 911, you'll soon find yourself at going at impressive speeds thanks to the genius engineering under the hood. Here at Porsche Woodland Hills, you'll find an amazing selection of exciting new Porsche cars that will deliver endless fun. Our Porsche dealership serving Los Angeles is also where you can keep your engine going strong thanks to top-notch Porsche service.
Engine Wear
Our experts here at our Porsche service center are familiar with all the causes of engine wear, along with how to get your engine back to pristine shape. Keeping up with your routine maintenance schedule will help you prevent excess engine wear and damage to various engine parts. Generally speaking, there are four types of engine wear that can happen to your car.
Abrasive wear happens if materials from outside your car manage to get under the hood and inside your engine, which can interfere with the smooth functioning of your metal gears. Chemical wear, also known as corrosive wear, is when chemicals leak from other parts of the car and end up corroding important metal parts. Another common type of wear is adhesive wear, in which pressure from large amounts of weight results in bonding and tearing. Then there's fatigue wear, which happens even when materials are properly lubricated and is simply the result of lots of miles and age.
Our Service Center
When you bring your vehicle over to our Porsche service center near Los Angeles, our technicians can look carefully for any wear in your engine or parts that need replacement. We will also be sure to check multiple aspects of your car, including your tire pressure, oil level, and lights. If we find any broken parts in your car engine, we will replace them with fresh OEM Porsche parts that will last you a long time while helping your car perform at its best. We work quickly and efficiently to get your car back to you soon, so you can enjoy more time behind the wheel of your beautiful Porsche car.
Schedule your maintenance appointment today and check out our Porsche service specials to see what deals are currently being offered. We look forward to helping you make the most out of your driving experience.