Luxury SUV Face Off: 2019 Porsche Cayenne vs. 2019 Range Rover Sport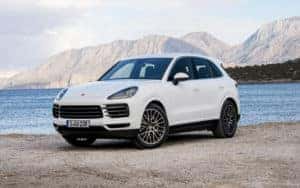 Porsche Woodland Hills is known for having exceptional vehicles with customer service that is second to none. We have a vast selection of new Porsche cars for sale, from the compact 2019 Porsche Panamera all the way to SUVs, including the 2019 Porsche Cayenne. If you are envisioning yourself driving an SUV, find out why this well-crafted crossover is perfect for you.
The 2019 Porsche Cayenne
The 2019 Porsche Cayenne may be built like an SUV, but it provides thrills like one of our sports coupes. The turbocharged 3.0-liter V6 engine is capable of earning 335 horsepower along with 332lb-ft of torque. On top of that, this SUV can go from zero to 60 in only 5.9 seconds The V6 engine is also efficient with an auto start/stop function that reduces fuel consumption and coasting that allows the Porsche Cayenne to go longer distances.
The Porsche brand prides itself on for the quality craftsmanship and this vehicle is no exception. The interior has redesigned rear seats for maximum passenger comfort. A new inside feature is the Porsche Advanced Cockpit in the center console, a high-resolution touchscreen that provides easy access to the most important features, like navigation with real-time traffic information. You can also connect to all the infotainment when you connect your mobile phone via the USB or AUX input.
2019 Range Rover Sport
Our dealership knows you are likely shopping around for your new car and may recognize some things in common with the 2019 Range Rover Sport. While the 2019 Range Rover Sport has packages that provide an extra layer of safety, they come at an additional cost. With the 2019 Porsche Cayenne, safety features like lane keeping assist and night vision assist come included. The top speed of the Range Rover Sport does not even come close, clocking in at 130 miles per hour compared to 152 with the Porsche Cayenne. If you like to go on adventures, you can rely on the cargo capacity of our crossover with 60.3 feet, almost a foot longer compared to 59.5 from the other brand.
Your Porsche dealership serving Los Angeles supplies only the best cars of the highest distinction, so you will be sure to discover that the 2019 Porsche Cayenne is no exception. Compared to the 2019 Range Rover Sport, this SUV has better cargo capacity with the seats folded, a significantly higher top speed, and a quicker acceleration from zero to 60 miles per hour by 0.03 seconds. Visit your California Porsche dealership today to become a proud new owner of this luxury vehicle.