Luxury Car Warranties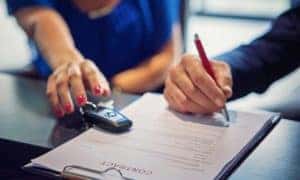 At Porsche Woodland Hills, we care about our customers. Our goal is to take the time to go through the new Porsche cars and pre-owned Porsche cars to help find your dream vehicle, from choosing the ideal trim to seeing if there are any specials on your model. To protect your car, our dealership offer warranties that can save you money and future headaches down the road.
Porsche Warranty
You may be wondering exactly what a car warranty does. A car warranty is another layer of protection in which Porsche promises to cover certain problems without a certain period of time or amount of mileage. Warranties can vary by if it is new or pre-owned, or the model year you are purchasing. For our New Car Limited Warranty, it is four years, or 50,000 miles, whichever comes first. This also comes with 24-hour roadside assistance that offers added security while driving, whether you accidentally lock your keys inside or need a jump start to your car battery. This warranty does not cover tires damaged by road hazards or premature wear, in addition to batteries damaged from storage or lack of vehicle use. If you decide to buy a pre-owned Porsche, the Certified Pre-Owned Warranty is two years, or 100,000 miles, once the vehicle is outside the original warranty period.
Our Service Center
If you happen to need a part repair or replaced, the Porsche Woodland Hills service center is here for you. No problem is too big or too small as our highly-trained technicians can perform whatever work is needed to get your vehicle up and running again. When you drive one of our luxury vehicles off the lot, you will not have to worry about paying out of pocket. The warranty should cover the cost and labor of the faulty part. The service team knows what each warranty entails and wants to make sure any issue has been solved to your satisfaction, so you can get back to enjoying your vehicle. We also encourage you to create a maintenance schedule, in which our technicians can perform frequent inspections that will help prevent future problems. This will also give you peace of mind knowing that any work will be done effectively and efficiently.
To find out more about our warranties, visit your Los Angeles area Porsche dealer at 21301 Ventura Blvd. One of our experienced finance administrators will be happy to discuss which option works best for you. Please do not hesitate to contact your Porsche dealership serving Calabasas with any questions.