Explore the All-New 2020 Porsche Taycan near Los Angeles, CA
Are you eager to get behind the wheel of the 2020 Porsche Taycan? Get in touch with your Los Angeles-area Porsche dealer to discuss availability and begin the purchasing process. We'll be happy to get you started with a test drive at our Woodland Hills, CA Porsche dealership.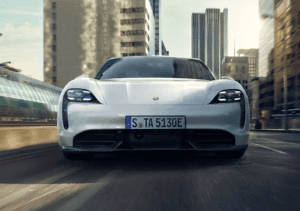 2020 Porsche Taycan Details
The 2020 Porsche Taycan is a brand-new electric sports car. This model is revolutionary and focused on high performance. That's evident from the 2.6-second acceleration speed from zero to 60 mph. This vehicle also boasts an EPA-estimated electric-only driving range of 192 miles for the Porsche Taycan Turbo and 201 miles for the Taycan Turbo S. The 79.2kWh battery pack is standard, but there's also a larger 93.4-kWh battery pack available — known as the Performance Battery Plus.
Charging the Porsche Taycan comes with several options. Owners can use the standard mobile charger for home use or locate a Porsche Turbo Charger or Porsche Charging Service station available at many public facilities such as hotels and restaurants. Explore these charging options and the innovative technology under the hood of the Porsche Taycan with your local California Porsche dealers .
2020 Porsche Taycan Safety and Special Features
The Porsche Taycan also stands on the cutting edge with interior connectivity traits. Apple Music is built into all Porsche Taycan models. You can also use voice control and voice assistant features to perform operations from reading news to adjusting the temperature in the cabin. Other connectivity highlights include the ability to conduct high-speed online searches for destinations and get real-time traffic information through the navigation system.
The Porsche Taycan also comes with several innovative safety aids including a feature called Traffic Jam Assist that helps drivers stay centered in congested diving conditions. Ask our Porsche dealers for more details.
Buying a 2020 Porsche Taycan
Porsche Woodland Hills is your go-to destination for new Porsche cars like the 2020 Porsche Taycan. No matter where you are in the decision-making process, we're here to help you discover this and other exceptional Porsche models.