2019 Porsche Panamera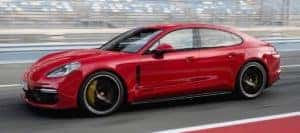 Turn each drive into a memorable experience and a delightful sensation in the 2019 Porsche Panamera. This luxurious sports sedan boasts performance born out of a storied racing legacy and beautiful styling made for those with refined taste. You can find the 2019 Porsche Panamera here at Porsche Woodland Hills in our lineup of new Porsche cars.
2019 Porsche Panamera Model Details
Each angle grows more captivating when you take a look at the 2019 Porsche Panamera. The aerodynamic body frame looks impossibly sleek with subtle details that hint at the powerful capabilities of this five-seater sedan. The feeling of elegance and refinement continues when you take a look inside. Premium materials and sophisticated styling are found in every corner of the spacious interior, which is beautifully juxtaposed with a large high-resolution infotainment screen, sleek dashboard, and modern center console.
The chassis, body frame, and suspension are made with precision and expertise, delivering a handling experience that is ready for the track and a ride feel fit for cross-country touring. The Porsche Panamera is a front-engined sedan with the starting engine being a turbocharged V6 that delivers 330 horsepower, propelling the car from 0-60 mph in just 5.4 seconds. There are several trim levels of the Porsche Panamera available, including the Porsche Panamera 4S, which features a twin-turbocharged V6 engine that produces 440 horsepower and can do a 0-60 mph spring in just 4.2 seconds.
Safety and Special Features
In addition to enjoying luxurious styling and elite performance, you will also be able to have extra peace of mind on the road in the 2019 Porsche Panamera when you drive off from our Porsche dealer near Los Angeles. Among the available driver assist systems is the adaptive cruise control system, which detects the distance between your car and other cars ahead to adjust your speed accordingly. Each drive is made more pleasant by using the brilliant 12-inch touchscreen infotainment system that is equipped with Porsche Connect, allowing you to access your favorite apps and internet on-the-go.
Buying a 2019 Porsche Panamera
Our team at our Woodland Hills Porsche dealer, located at 21301 Ventura, are dedicated to meeting your needs. Our helpful staff will be happy to guide you through financing a new Porsche, finding the right trim level for you, and setting you up with a test drive. Contact or visit us today!